Tara Bernstein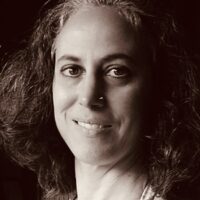 Tara Bernstein graduated from Sarah Lawrence College where she studied choreography. She is a Certified Iyengar Yoga teacher as well as therapeutic yoga practitioner. She travels to India regularly to study yoga asana and philosophy. Her use of intelligent sequencing to suit the students is one of her strengths. She shares her talents at three other studios besides Taj Motion, and is the Director of University District Yoga.
Whether you want to step back from a vigorous yoga workout and practice yoga with more relaxation or you want to loosen up your stiff neck and shoulders, Tara's Gentle Yoga class offers you an opportunity to feel your body and mind with joy.
Contact Tara directly about online Yoga Classes.
Tara's Website:  universitydistrictyoga.com
Contact Tara: [email protected]
Ongoing / Series Classes at Taj Motion:
Workshops
No series or workshops scheduled at this time.